Results-Driven Customer Loyalty
With over 30 years of experience, Comarch prides itself on offering world-class proprietary software and services customizable to each client's unique needs.
Whether you're launching a B2C, B2B, or B2E loyalty program – you can trust Comarch from end to end.
Their clients have reported a $3 return on every dollar spent, a 50% increase in active members and that 70% of their most valuable members double their spend.
Comarch has also just launched a FREE new eBook called:
"How Loyalty Programs Boost Revenue.  And How To Measure It."
Simply click here or on the eBook image to request this free of charge: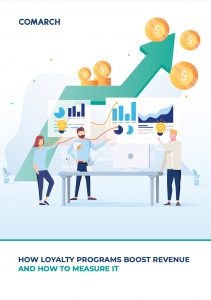 How Loyalty Programs Boost Revenue.